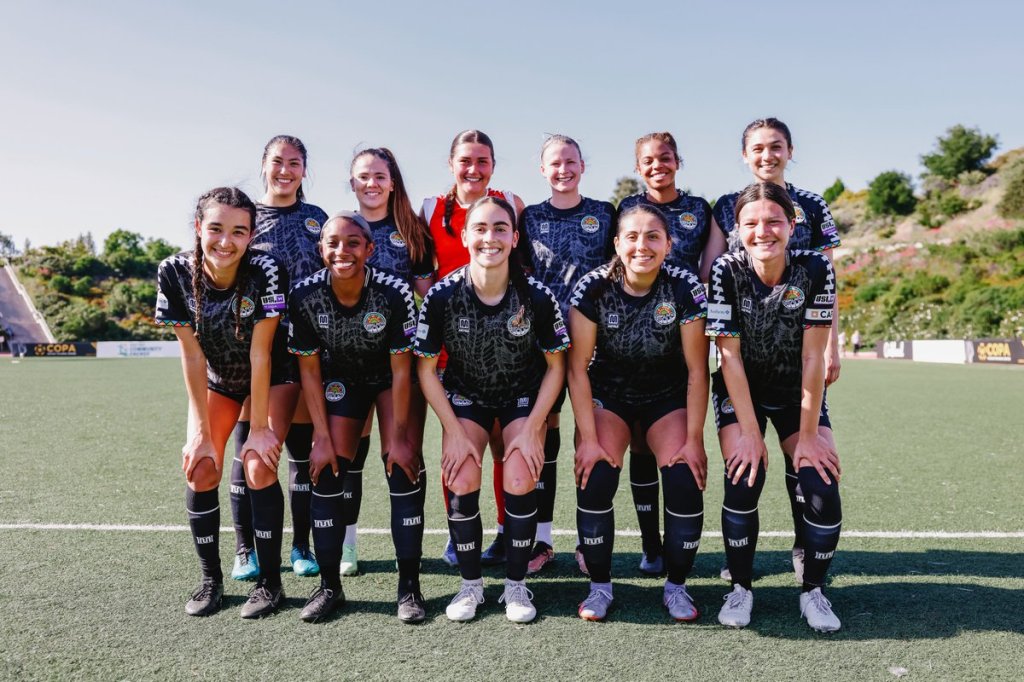 In its first-ever home match, Oakland Soul defeated San Francisco-based Olympic Club 1-0 in front of a raucous crowd of 5,855 at Pioneer Stadium.
After last week's season opening 3-2 win against the Stockton Cargo, Oakland Soul is still undefeated in its inaugural W League season (2-0-0).
Led by UCLA-bound goalkeeper Layla Armas, Soul weathered some early attacks from Olympic Club but managed to enter the second half with a clean sheet. They were unlucky not to score as well; speedy forward Aliyah Jones got in behind a few times but couldn't tuck one away. Kaytlin Brinkman threatened Lauren Racioppi's goal with one long shot that knuckled in front of her and led to a corner kick.
History was made in the 63rd minute when Brinkman, with her fifth shot of the match, blazed a shot from around the penalty spot into the bottom corner to give Soul the lead, sending the thousands gathered at Pioneer Stadium into ecstasy.
With the goal, Brinkman became the Soul's inaugural home goalscorer, a worthy title for the Antioch, California native.
Soul defended in numbers after going up a goal but nonetheless enjoyed the best chances of the rest of the game. Jordan Geis struck the post with a delectably curled shot in the 83rd, her follow-up shot barely saved by a lively Olympic Club goalkeeper.
Oakland Soul is off next week but plays next at Merritt College against Turlock's Academica on May 28th at 2:00 PM PT.
Oakland Roots SC vs Olympic Club
USL W League | May 13, 2023
Venue: Cal State University, East Bay, Hayward, California
Kickoff: 5:00 PM PT
Weather: 75 degrees, sunny
SCORELINE:
OAK: 1
OC: 0
SCORING SUMMARY:
OAK: 63' Kaytlin Brinkman
OAKLAND SOUL LINEUP: Layla Armas, Miranda Nild, Henar Urteaga, Sydney Shepard, Malia Yamamoto (Clare Robke), Kaytlin Brinkman, Alondra Partida (Lizzie Vranesh), Nayeli Diaz (Jordan Geis), Samantha Tran (Zoe Franks), Aliyah Jones (Eden Olson), Ceci Gee (Teresa Noyola)
Unused subs: Maleni Morales